HOW TO SCREEN RENTAL TENANTS WITH AN APPLICATION
---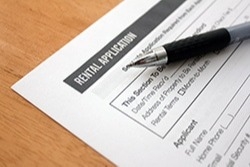 Investment property owners expose themselves to extreme risk by failing to ensure that application criteria are published and in compliance with all Fair Housing recommendations. It is the number one place where Landlords lose money unnecessarily.
The application fee is $45 and is nonrefundable once an application has been processed. This total amount accounts for the $25 actual expense incurred by MOD Properties in securing credit and criminal reporting and the average employee costs of $20 incurred by MOD Properties to administer, process, and review applications. This average is calculated from regular tracking of the amount of time spent on these items — per CO HB19–1106. 
We also updated our criteria and processes regarding declined applications to ensure compliance with all aspects of this new law. Our criteria are available HERE as a FREE DOWNLOAD!
Our policies ensure that applications are processed fairly with any information pertaining to protected classes being withheld from the processor, guaranteeing that biases are not inadvertently placed during the review.
If you have any questions about how the recent laws concerning Colorado Landlords may affect you, please reach out! 
Set your consultation here: https://calendly.com/jason-modproperties/meet
Go Back