HOW CAN I AFFORD TO HIRE A PROPERTY MANAGER?
---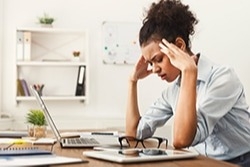 As the impacts of COVID-19 continue to spread and landlord/tenant laws change, it can be tempting for many investment property owners to think self-managing is a good way to save money.
While this strategy seems advantageous for some, there simply aren't enough hours in the day for overseeing the day-to-day operations of investment real estate while remaining a full-service landlord to the residents. With the increasing level of Resident demand we are observing as Gen Z continues to flood the rental market, this is true now more than ever.
YOUR RESIDENTS' AND PROPERTY NEEDS ARE HIGHLY UNPREDICTABLE, LEAVING THE POSSIBILITY FOR FINANCIAL AND TIME STRESSORS TO POP UP AT ANY MOMENT.
Legislation passed in the last year, and particularly in the last few months in response to Corona Virus, have narrowed the timelines for Landlord response windows regarding certain repair/maintenance concerns while extending a tenant's timeline to remain in a property without paying rent. Owners who do not attend to these new laws strategically and within the specific timeframe as is required face extreme financial losses. Our legal team ensures that we are privy to every change impacting owners and residents in Colorado with enough notice to accommodate new policies seamlessly.
New softwares do provide self-managing property owners with a lot of features, but they all fall short in their ability to offer comprehensive services in compliance with fair housing. Consider the the challenges of self-managing all of the terms and conditions associated with fair housing regulations.
When you choose to hire MOD Properties to manage your rental, know that your investments are well-taken care of with maximum potential for return. In fact, we will work with you directly to accommodate whatever level of control you are most comfortable with so that you can rest easy.
Go Back